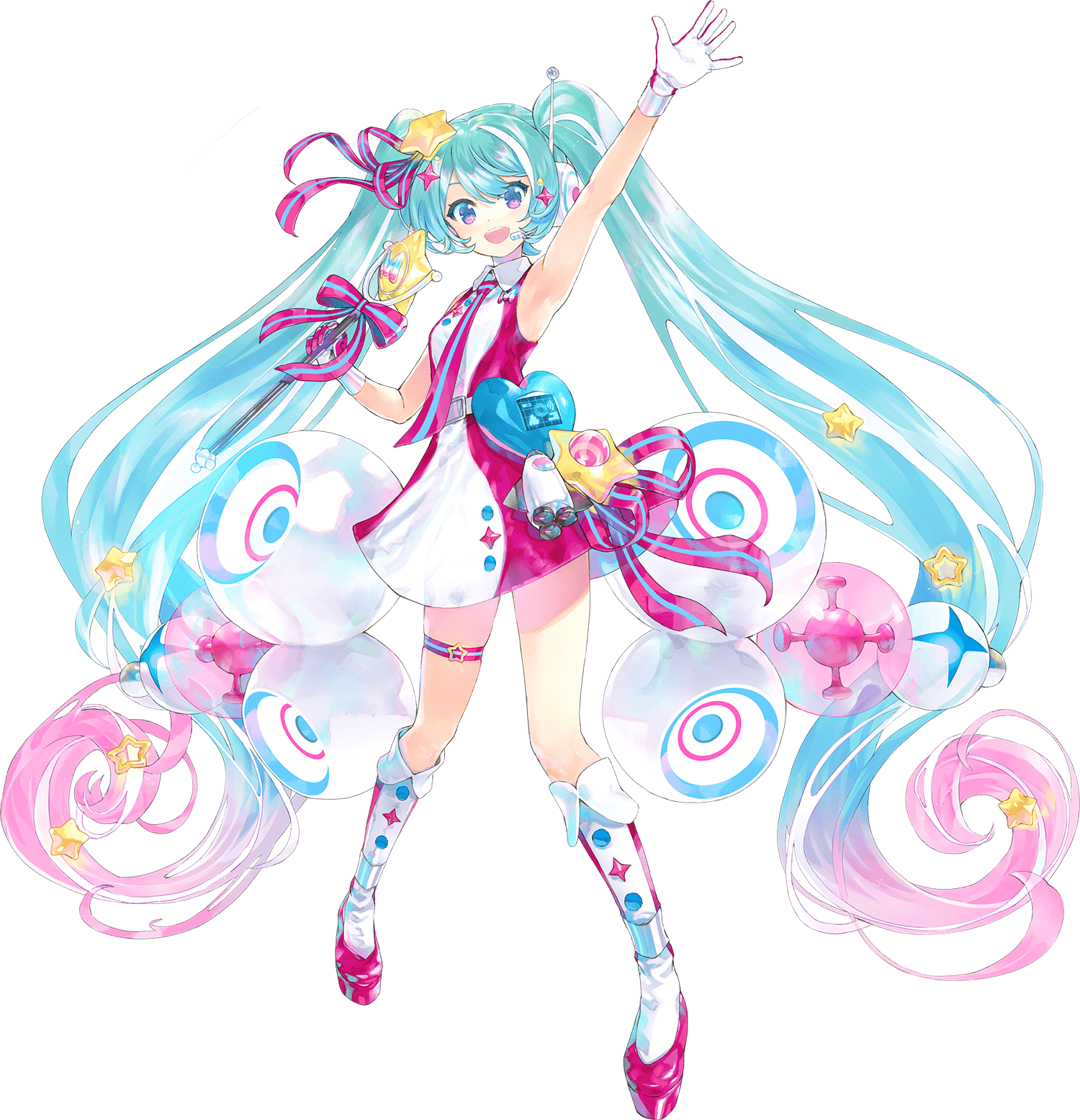 ONLINE EVENT
2022.08.31 - 09.01
For the 5th time this year, we will be celebrating Hatsune Miku's birthday on August 31st by gathering and sharing birthday messages from her fans from around the world.
You will be able to submit your messages online from August 4th to August 18th JST.
The messages will be displayed and animated to the theme song of Hatsune Miku "Magical Mirai" 10th Anniversary and Magical Mirai song contest.
EVENT SCHEDULE
1st show
08.31(Wed.) 21:00
2nd show
09.01(Thu.) 10:00
*JST
The charts below show the events start time in cities around the world.
HOW TO PARTICIPATE
From approximately 10 minutes before the event start time, you can join by pressing the above button on your smartphone or personal computer.
xxx to start
*Your device must be able to play a YouTube video in order to participate
CELEBRATE WITH YOUR WORDS
You are invited to submit special birthday messages for Hatsune Miku, which will be used in the event. Please send your message from the following page.
Submission Period: Aug. 4, 2022 5pm - Aug. 18, 2022 11:59pm (JST)
What is Songle Sync?
"Songle Sync" is a novel technology that can drive hundreds of smartphones and personal computers to show graphic-based animations synchronized with music playback.

Songle Sync is a large-scale music-synchronized control platform, which is publicly available as an outcome of research and development by the National Institute of Advanced Industrial Science and Technology (AIST), Japan. This time we are presenting a special version of Songle Sync used to control a TextAlive animation, but you can always experience the power of Songle Sync on its official website for free! Access the web site with your own smartphone or personal computer and invite neighbors to enjoy graphic-based animations synchronized with your favorite music. The animations are dynamically generated on your device so that the amount of transferred data remains compact.
Organized by Crypton Future Media, INC.
In collaboration with RecMus Project, National Institute of Advanced Industrial Science and Technology (AIST)
Songle Sync by AIST is open to the public for academic purposes. Songle Sync collaborates with "Magical Mirai 10th Hatsune Miku Birthday Message Project : A Collaboration with Songle Sync" as part of their experimental research demonstrations. Songle Sync is supported in part by JST CREST Grant Number JPMJCR20D4, Japan.
Contact:
piapro[at]crypton.co.jp
AIST project team: Jun Kato (producer), Takahiro Inoue (design and development of Songle Sync), Masataka Goto (executive producer), Masahiro Hamasaki, etc.
Style development: Jun Kato (AIST), Kota Minagawa (CFM), Hideki Ishikawa (CFM), Kenta Tominaga (CFM), daniwell