EXHIBITION
EXHIBITION
The exhibition this year is the largest of all Magical Mirai! It is an interactive event area with a life-size Miku figure and illustration gallery, as well as corporate booths where you can enjoy watching, listening and creating! There are also various stage events and workshops. It's all powered up to experience more of the creative culture.
Organizer's booth
A life-size Miku figure wearing "Magical Mirai 2016" version costume will be displayed! The history of Hatsune Miku can be explored through many illustrations.
There will also be the spot for souvenir photo and the contest for piapro calendar illustrations. You can write messages on the "piapro wall," the scribble wall of the largest scale ever!?...maybe.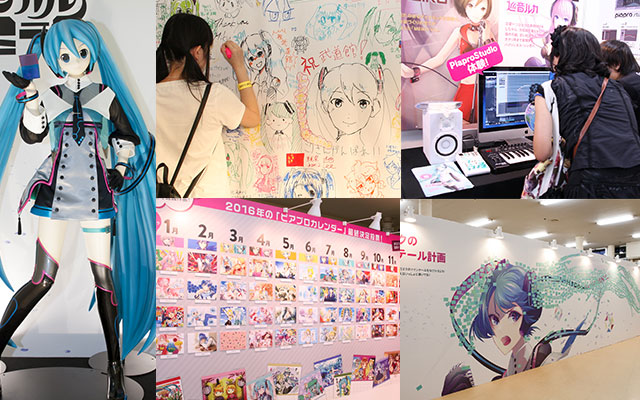 Corporate booths
Booths collaborated with various companies will be set up. You can buy character goods, attend workshops and see the latest technology collaborations, only available at Magical Mirai 2016!
Exhibition Special Stage
With the capacity of about 600 people, the Special Stage will stage many events, including the kickoff event "Hatsune Miku Magical Mirai 2016 Opening Act on Exhibition Special Stage" by hot performers, the music stage between daytime live and night live, and talk sessions. (A program ticket is required for some stages)
Workshops
You can experience the creative work through Hatsune Miku! There will be workshops in which anyone can casually participate, including creating your own fan in "Coloring fan" and the "Masking tape art" by all participants.
(Sponsored by ENSKY Co., Ltd./In collaboration with CANVAS)
[Regarding cosplay]
・There will be no cloakroom service for cosplay. Please keep your belongings with you.
・Dressing rooms are available, but please note that there are limited number of rooms. There will be no charges for cosplay registration fee, dressing room charge, or camera registration fee, etc.
・There will be no special entrance to the exhibition for cosplayers using dressing rooms.
*Please be forewarned that the contents of exhibitions may change without notice.